Basic business flow is Release Order after MRP or Additional Order→RM Picking Result Entry→Production Result Entry.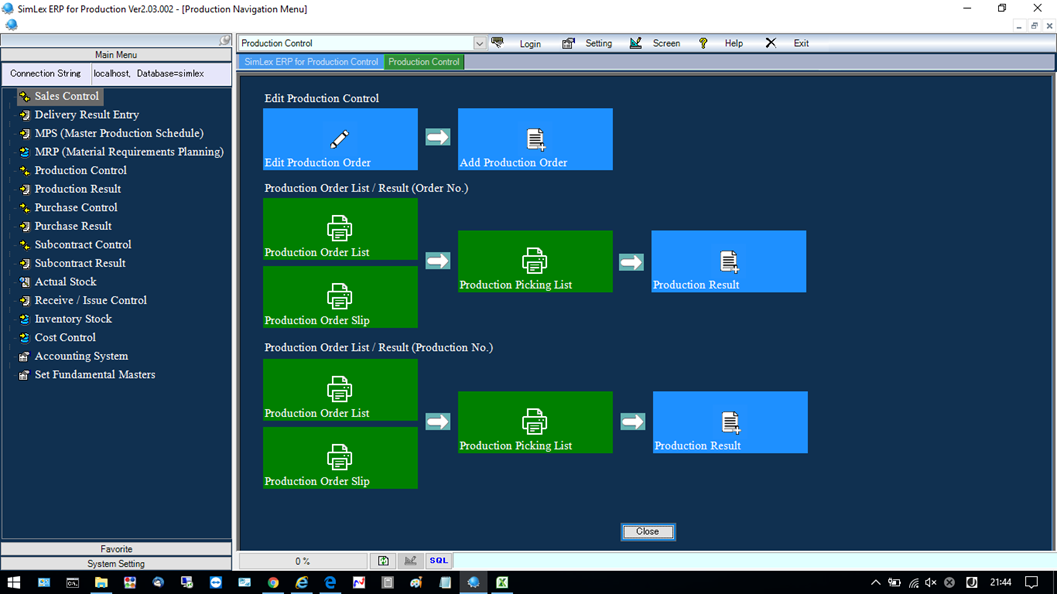 After Release Order by MRP, users can print Production Order List (By Order No. or Production No.).
Users can print Picking List (By Order NO. or Production No.). And users can enter Picking Result.
If production is finished, you can enter Production Quantity, NG Quantity, Lot No., Location. At the same time of production entry, users can enter the Defectives.
If Production Result is entered by Lot No., you can execute Lot Trace and Actual Stock by Lot No..
Production Control reports are Production Slip, Back Order List, Production Result list.
Example of Production Slip

Production Control Process
Edit the production instruction of automatic calculated order or hand entered the order from the MRP.
The input to production can be used barcode. all data sequential from order.
Input and editing functions of the Defective.
Actual production input can be separate to production by order and production number.
Identification Tag ,slip and Picking List Printing.
Display of the lot trace during production work in process.
SimLex Series
We provide ERP, Accounting System, Production Control and Sales System for Users request.