Basic business flow is P/O Entry / Report→P/O Approval→Received Result Entry→Supplier Invoice Entry→Invoice Approval.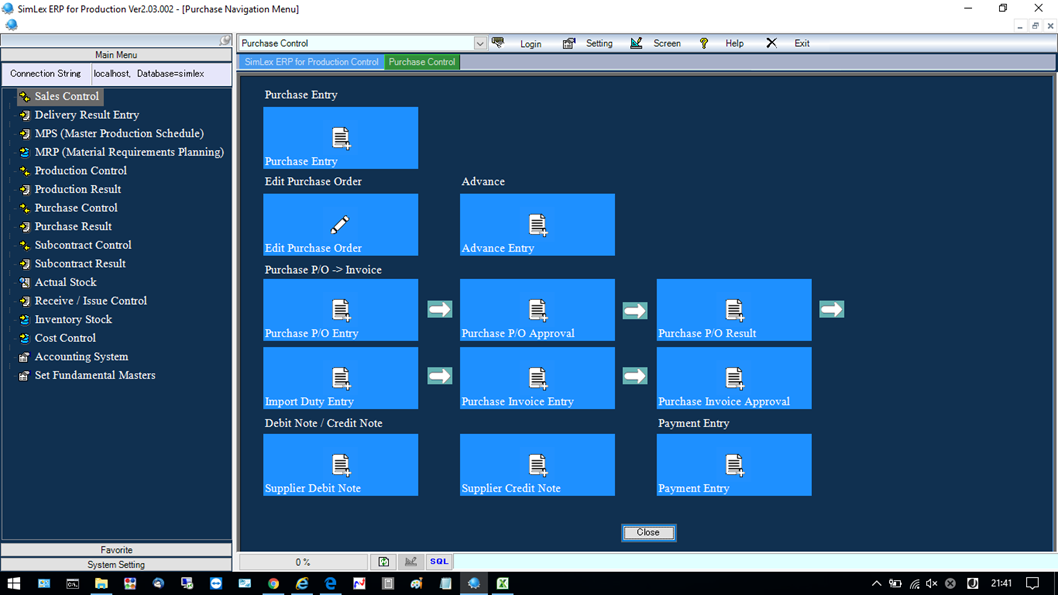 SimLex supports foreign Currency and you can enter P/O. Purchase Price Mater supports expired date and unit price by lot size.
After P/O is entered and printed, you can enter received result. SimLex supports to split received quantity.
Users can enter Advance, Debit Note or Credit Note. Debit Note or Credit Note is used for unit price adjustment.
Purchase Reports are P/O Back Order Report, Merchandise Received Sheet for Item, Monthly Receive Schedule Report.
Accounting Payable (AP) Reports are AP History Reports, Aged Payable Detail / Summary, Creditor Card.
Actual Purchase reports are Actual Purchase by Item, Actual Purchase by Supplier.
Example of Purchase P/O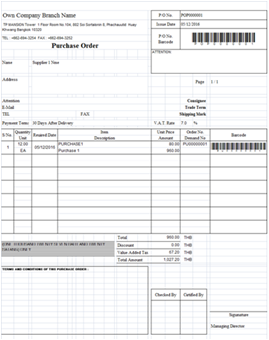 Purchase / Subcontract Process
Edit manually purchase orders.
Purchase PO Entry, Print of purchase order to supplier.
Materails received from P/O can be use the bar code to record.
Purchase advance entry,Debit note / credit note entry.
Slip,Order the remaining schedule,Material received report,Material received month schedule.
Import Duty input of overseas purchases.
Display of the lot trace by reverse deployment.
P/O、Invoice Approval.
The purchase order record by Suppliers code, End user code or classification large/middle/small.
SimLex Series
We provide ERP, Accounting System, Production Control and Sales System for Users request.