Basic business flow is Quotation→customer's P/O input→Delivery Note→Delivery result→Invoice input. Customer P/O and Invoice are needed to Approve.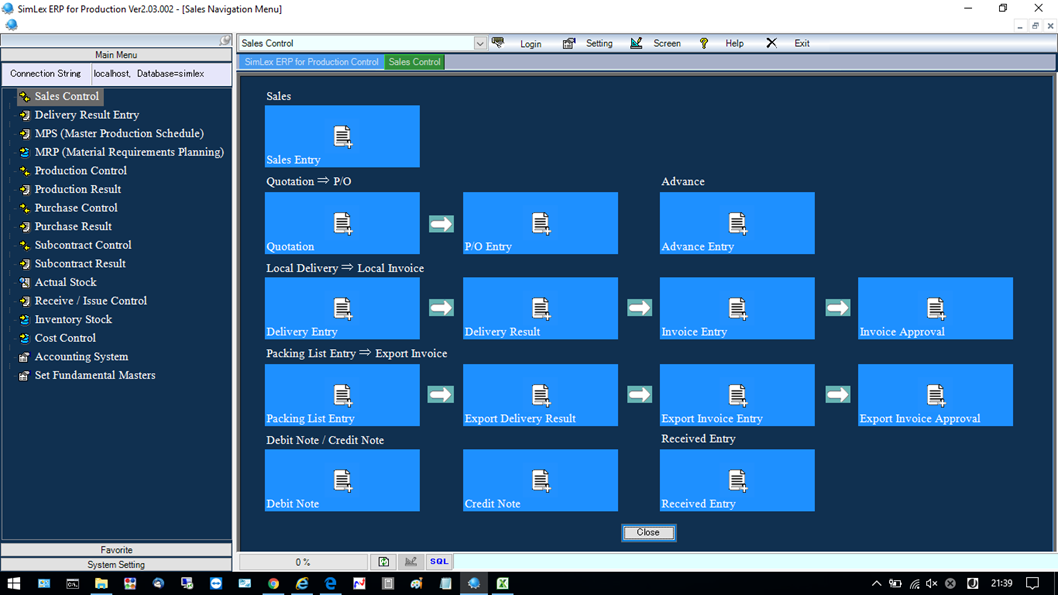 Users can make a Quotation. If Item code dose not exist in Item Master, Item will be created automatically. After Quotation is created, Users can enter automatically from a Quotation.
After you enter Customer P/O, Users can enter Delivery data and print Delivery Note. Users can spirit delivery quantity or enter plural Customer P/O as 1 Delivery Note.
Users can print Invoice according to Delivery Note.
Users can enter Advance. Debit Note or Credit Note is used for unit price adjustment.
P/O, Delivery Reports are Confirm P/O Report, P/O Back Order Report, Weekly Delivery Schedule Report, Monthly Delivery Schedule Report.
Accounting Receivable (AR) Reports are AR History Reports, Aged Receivable Detail / Summary, Debtor Card.
Actual Sales reports are Actual Sales by Item, Actual Sales by Customer.
Example of Local Invoice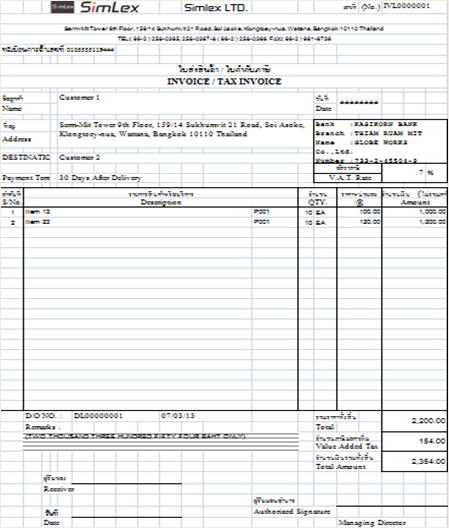 Example of Over Sea Invoice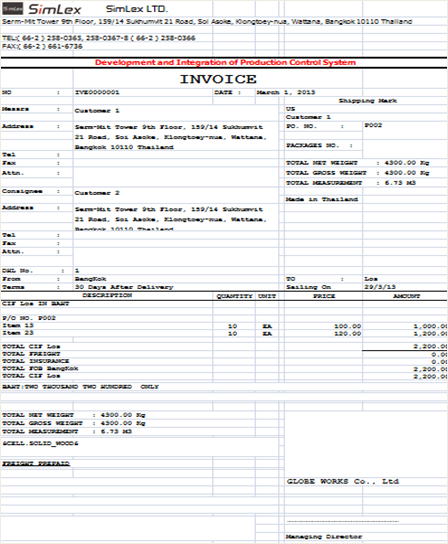 Production Control Process
P/O Entry、Confirmation P/O and Confirmation P/O report.
Corresponding to the local invoice and export invoice.
Standard of trade condition is CIF・FOB・C&F・DDP・DDU.
Pallet management of export invoice packing list.
Instructions of Local delivery report and Export packing List.
Sales advance Entry, debit note/credit note Entry.
Quotation Entry and Print out of quotation report.
P/O、Invoice Approval.
Actual sale for customer,Actual sale for end user,Actual sale for classification.
Create special Item,BOM Pattern.
Month Progress,Month Schedule,Weekly schedule,Delivery back order list.
SimLex Series
We provide ERP, Accounting System, Production Control and Sales System for Users request.